Many leading Czech and foreign experts in the field of energy, gas and heat industries and industrial energy took part in the conference. SYNECTA's technical specialists, engineers and company management also attended the conference.
Key directions of the conference:
Energy development in the Czech Republic
Foreign projects with participation of Czech investors and suppliers
Innovation in heating systems, thermal power production and industrial energy
Energy industry development in countries familiar with the Czech brand
Modernisation and reconstruction of existing power sources in the Czech and Slovac Republic
The impact of EU directives on district heating
Conference outcomes:
There are no 'efficient' alternative sources to nuclear power in the Czech and Slovak Republic due to their dependence on gas imports and exhaustible coal resources.
Export financing of Czech companies abroad is well developed, especially in countries where the brand 'Made in Czechoslovakia' is valued.
Waste incineration technologies that can simultaneously produce heat and electricity have high priority to address the problem of efficient waste utilisation.
It is important to establish a programme to control the amount of pollution produced by small energy producers (e.g. households that use coal for heating are responsible for a significant amount of pollution).
Download the full version here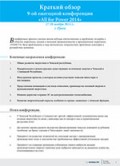 Overview of the 9th Annual «All for Power 2014» Conference 27–28 November 2014 Prague
was last modified:
January 19th, 2015
by