We play a proactive role in engineering, procurement and construction (EPC). We have well-established relationships with our subcontractors and take care of the EPC processes.
We offer turnkey projects of any size and complexity, providing a full range of services from designing energy plants to project work and management.
We take care of O&M, allowing  for long-term increases in operational efficiency  through a defined schedule and an agreed-upon service cost structure.
O&M is an integral procedure allowing for smooth continuous performance with defined costs and timing-maintenance intervals.
SYNECTA's value is enhanced performance and timely, cost-efficient maintenance execution.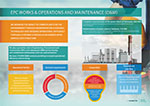 EPC works & operations and maintenance (O&M)
was last modified:
December 10th, 2014
by